AST Athlete Journal: Tora Hoshizaki
Hello Everyone!
It's Tora Hoshizaki here with another Athlete Journal! November and December have been packed with pre-season training and dryland as we waited for the first couple races of the season. We all have been working really hard over the past couple weeks to prepare for a very busy December race schedule. With Canada Cup, Norquay, Lake Louise NorAms, Panorama NorAms, and the Panorama FIS series, it's definitely a grind before Christmas!
On November 22nd Cydnie and I packed up my car with 14 pairs of skis, clothes for a month and a massive amount of food to start our 30 day long Panorama stretch. Once we arrived we trained for 5 days before starting the Canada Cup. Unfortunately I had a poor finish rate and DNF'd all three of my races. Although I was disappointed, I believe that my skiing did not reflect the results from that weekend. I just have to be patient for future opportunities. On the other hand, the Alberta Women's Team had exceptional results! All the girls skied to their potential and got some early season scores.
Then we were off to Norquay for two quick slalom races. Once again, the Alberta Women had some great success! I was able to gain some confidence and walk away with a 3rd and 5th finish. Despite the cold, I was excited to be back at the Mighty Quay on Rob's Run!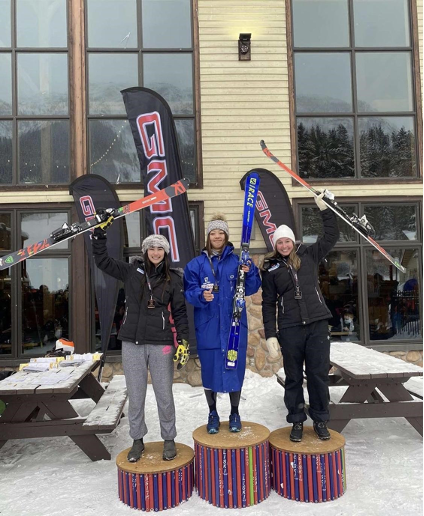 When we returned from Norquay we had a couple days of training before theNorAm series. Unfortunately on the first day of the GS race I had abad crash and bruised my tibial plateau. After evaluation of my knee I decided to come home early and not continue racing. I am extremely disappointed that I sustained an injury so early on in the race series. Currently I'm trying to stay positive and cheer the rest of my teammates on as they persevere through many days of challenging racing. Hopefully I will be back skiing with them in a couple weeks.
Now that I'm back at home I can finally get in the holiday spirit. Last year due to Covid-19 I was not able to go home to Edmonton for Christmas. So this year it will be amazing to be reunited with my family for the holidays.
To close I want to share my thanks to the Denney, Miller and Lipper households for hosting the Women's Team over the past month. I also want to thank all of the volunteers from these races, and my sponsors Sporting Life, Karbon Sports, BioSteel and Raymond James.
From the entire Alberta Ski Team, we wish all of you a Merry Christmas and a Happy New Year!
Tora Hoshizaki