Canadian Rockies
Ski Hall of Fame
Call For Nominations to the Canadian Rockies Ski Racing Hall of Fame
Recognizing the Class of 2020
Tuesday, April 6, 2020 (Canmore, Alberta)
For nearly 100 years, ski racing has been one of the most important sports in Canada and the Canadian Rockies. Our athletes have inspired a nation. Our volunteers have gained world-wide respect for their dedication and leadership. We are appreciative of the countless hours our officials, coaches and experts invest into our athletes, our competitions and our clubs.
To ensure we capture the legacy and give appropriate recognition to those who have invested countless hours of time and to ensure the sport continues to provide the resources and support to develop future champions, Alberta Alpine and the Friends of Alberta Ski Racing are calling for nominations for the Class of 2020 to the Canadian Rockies Ski Racing Hall of Fame.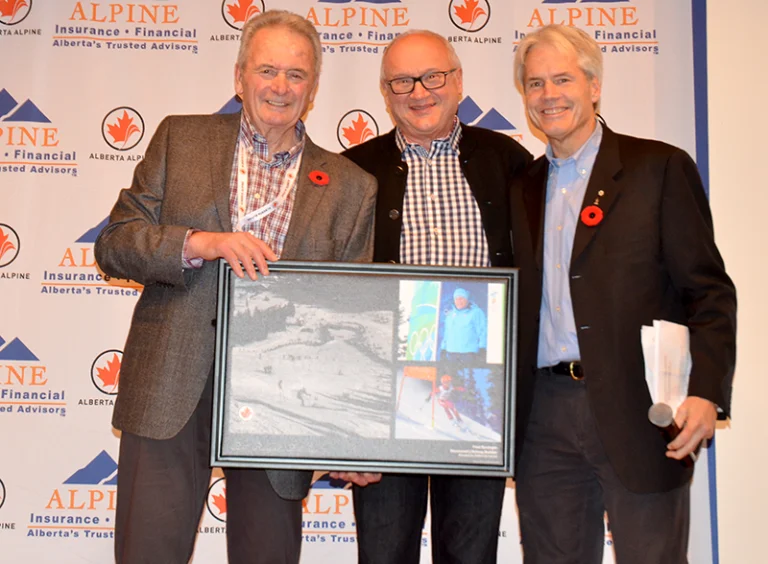 Ski racing has grown through the vision and determination of our many passionate leaders. These efforts have lifted in Albertans to proudly represent Canada, including Olympic, World Championship and World Cup medals. Volunteers have become indispensable supporters of our own annual World Cup as well as leaders within organizing committees at World Championships and Olympic Winter Games. Technical leaders have been part of the digital revolution. Coaches and Team alumnus have firmly established a culture of success and a pipeline that consistently gives thousands of young athletes the fundamentals of a life-long sport, a deep appreciation for the outdoors and mountain environment, the thrill of ski racing and a passion to aim to represent our country.
This is your chance to bring forward an individual you feel is deserving of recognition by the Ski Racing Family.
The Class of 2020 will be recognized at the "Highest Peak Gala", scheduled for October 29th, 2020, at Winsport's Markin-McPhail Centre. This year marks the 52nd year of this event, which was originally founded by Joe Irwin (2013 Honoured Lifetime Builder), Jack Simpson and Allister Ross, as a fundraiser supporting the 1968 Olympic Ski Team. It is Canada's longest-running annual ski fundraising event.
"The Canadian Rockies Ski Racing Hall of Fame is a truly meaningful way to honour those who have worked so hard for our athletes," said Alberta Alpine President, Rob McClosky. "Every winter, thousands of young athletes get the chance to enjoy ski racing and to aim for the podium, thanks to the determined effort of our supporters. Through their hard work our athletes have developed into champions, life-long ski enthusiasts and good citizens. The leadership of our Honoured Inductees and so many more is a living example to all of us who aim to build a strong sport programs across the province and Canada."
Any member may nominate an individual in the following categories:
‣ Builder
‣ Volunteer
‣ Official
‣ Alberta Ski Team and/or Canadian Ski Team alumnus

Nominations will be accepted until May 1, 2020.
To nominate a deserving individual, provide a brief summary of accomplishments, as well as contact information for both nominee and nominator. Email information to:
memberservices@albertaalpine.ca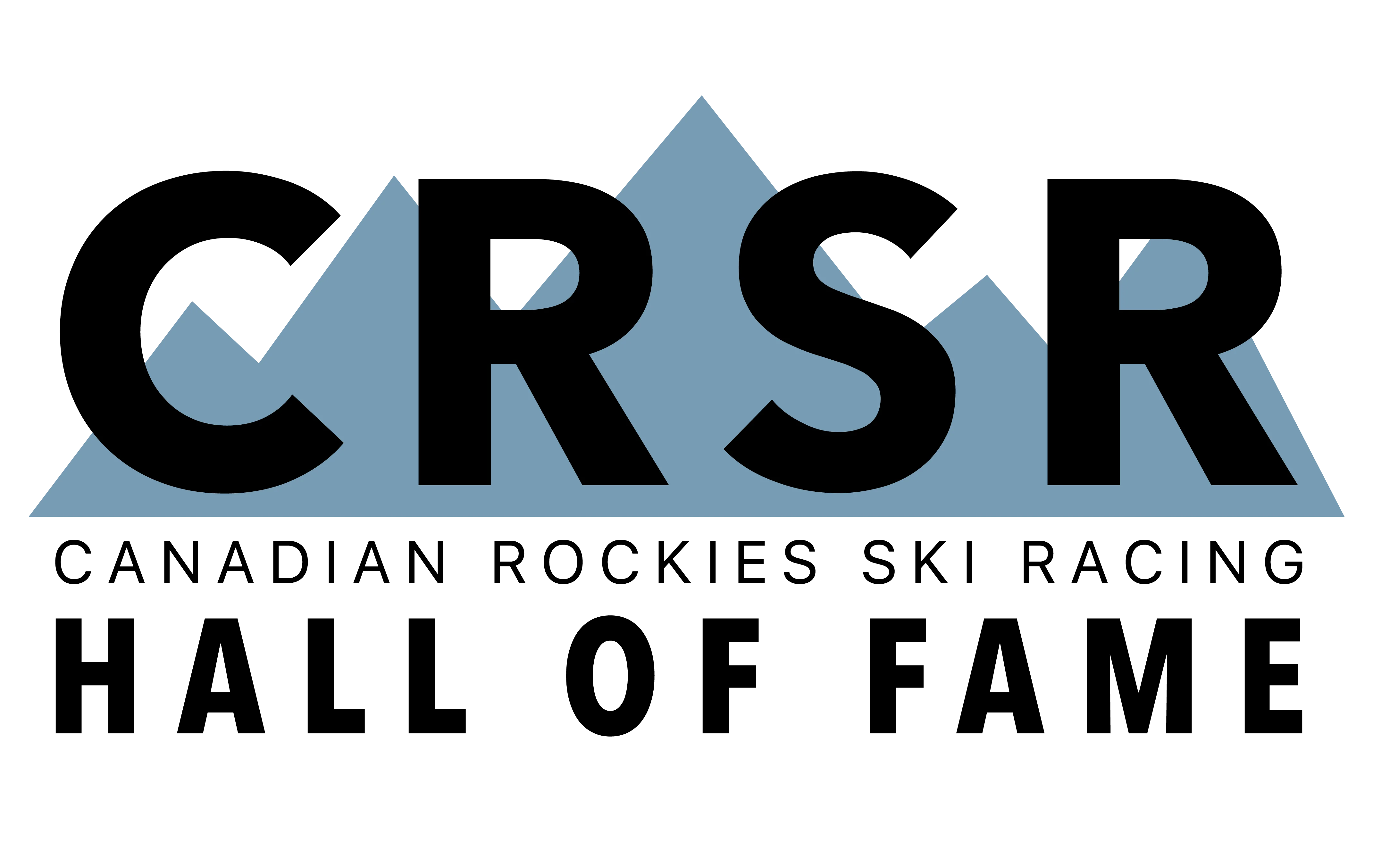 Class of 2020:
‣ Bob Leitch — Presidents Award for Lifetime of Dedication to Ski Racing
‣ Claudio Berto — Builder
‣ Judy Dickson — Volunteer
‣ Jim Read — AST Alumni
‣ Ethel Lumby — Official

Class of 2019:
‣ Mark & Sigrid Sharp — Builder
‣ Doug Airey — Volunteer
‣ Dr. Marcia Clark — AST Alumni
‣ Dave Bartle — Official
Class of 2018:
‣ Doug Savage — Builder
‣ Rob Imbrogno — Volunteer
‣ Louise Knight — AST Alumni
‣ Mark Bowman — Official
Class of 2017:
‣ Don Boyce – Honoured Lifetime Official
‣ John Cassels – Honoured Builder
‣ Randy Tarchuk – Honoured Lifelong Volunteer
‣ Glenn Thomsen – Honoured Alberta Team Athlete Alumnus
Class of 2016:
‣ Dick Beare – Honoured Lifetime Official
‣ Fred Bosinger – Visionary Builder
‣ Vanita Haining – Honoured Canadian & Alberta Team Athlete Alumnus
‣ Jim Miles – Honoured Lifelong Volunteer

Class of 2015:
‣ Mike Irwin – Honoured Canadian & Alberta Team Athlete Alumnus
‣ Phyllis Kennedy – Honoured Lifetime Official
‣ Jack Sandercock – Honoured Lifelong Volunteer
‣ Mike Wiegele – Visionary Builder
Class of 2014:
‣ Jeff Durand (Lake Louise Ski Club) – Canadian & Alberta Team Athlete Alumnus
‣ Darrell MacLachlan – International Official, Technical Delegate for the Sochi Games
‣ Ken Marchand (Calgary Skimeisters) – Coach, Leader and Sport Builder
‣ Patty Schwartz (Sunshine Ski & Snowboard Club) – Lifelong Volunteer
Class of 2013:
‣ Joe Irwin (Calgary) – Lifelong Sport Builder
‣ David Kent (Edmonton) – Volunteer Builder
‣ Lynne Richardson (Canmore) – Athlete Alumnus
‣ Ron Measures (Calgary) – International Officia