AST Athlete Journal: Gered Thompson
My name is Gered Thompson. I am 18 years old and this is my first year on the Alberta Ski Team. I have grown up skiing with Nakiska Alpine Ski Association where I was lucky enough to make lifelong friends. Growing up with this club has made me learn the importance of having fun and working hard at the same time and I believe that this combination can lead to great results!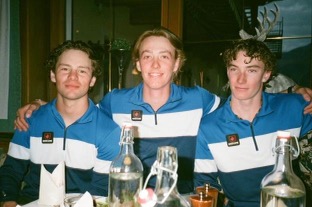 I just finished racing the Norquay series. The team had some good runs and good learning experience. I was able to win my first race if the season! I'm now moving in to a week of training before heading to Kimberly to do some speed series and a night slalom.
I am so thankful to have the support of my parents. My dad is at every race and is my biggest advocate and my mom has shown me the importance of hard work. I am so appreciatative for my sponsors. GMC dealers of Alberta, Karbon, Sporting Life and Raymond James Mission Wealth Advisors. A big shout out to Fischer Skis and to all of my bottle drive donors that have supported me over the years.
Gered Thompson