Friendship & Fun Both On and Off the Hill
Dedicated to promoting, supporting and participating in the life long sport of Alpine Ski Racing.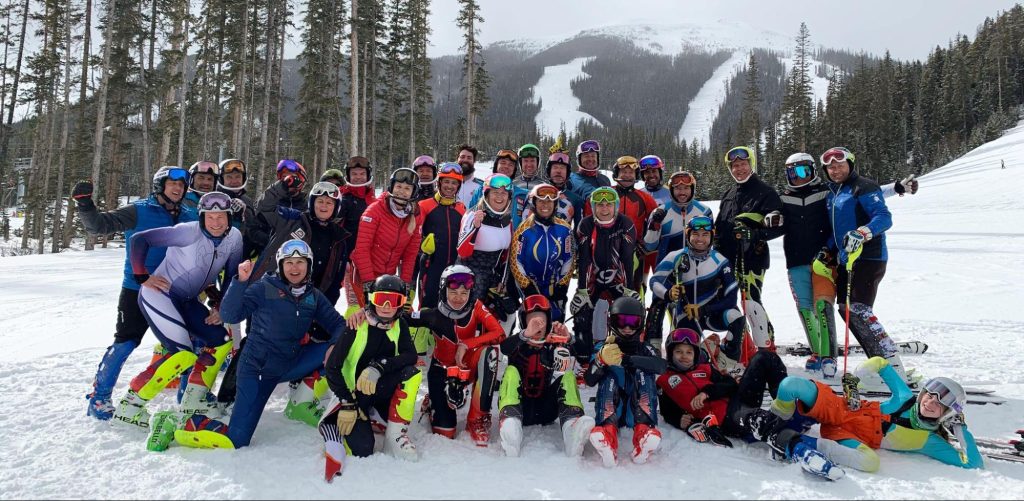 The Alberta Masters Ski Club is a group of passionate skiers ranging from age 18 into their 80's.  Using a flexible program to accommodate different ski backgrounds (both racer and non-racer) and life scenarios, our common goals include improving ski technique and racing skills through technical free skiing and gate training. Our club is well known throughout Canada for continuous ski improvement of the members but also the culture of friendship and camaraderie both on and off the hill. Our skilled ski coaches guide us through gate courses and technical free skiing, providing expert tips and tricks to help us reach our skiing goals.  Based at Nakiska on the weekends, Wednesday, Thursday, and at Winsport on Monday nights, you'll find us in our Alberta Masters gear.  We welcome new members continuously, so if you're interested in getting back into ski racing or learning a new skill or enjoying the sport your kid is involved in, come check us out.
---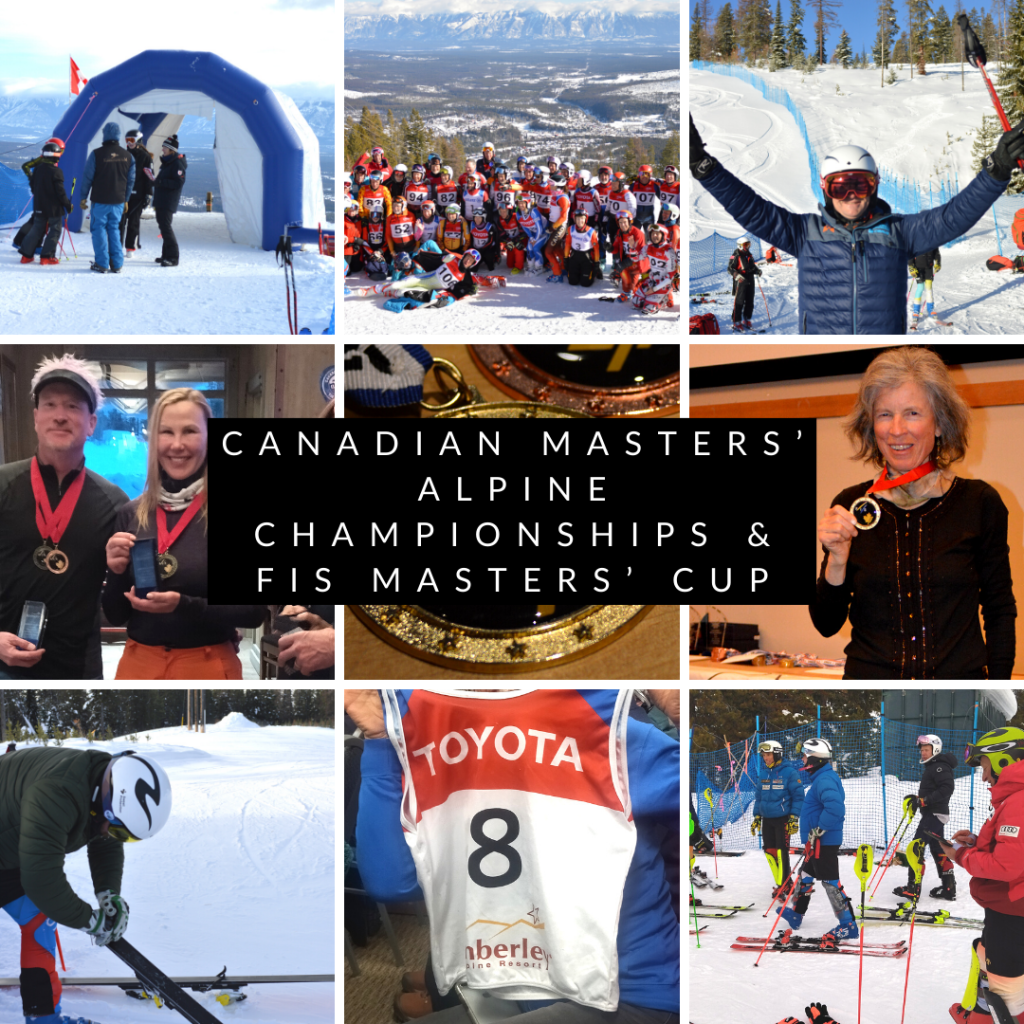 Canadian Masters' Alpine Championships & FIS Masters' Cup
February 8 – February 10, 2023
The Canadian Masters' Alpine Championships and FIS Masters' Cup were just held in Kimberley, BC, attracting masters' ski racers from across Canada and around the world. The event featured competitions in Super G, Slalom, GS, and Super Combined showcasing the skill and experience of these veteran athletes. The courses were challenging and demanding, pushing competitors to their limits. The event was a great success, bringing together a community of dedicated ski enthusiasts and showcasing the best of Canadian and international alpine masters' ski racing. The athletes from Alberta Masters Ski Club put on an impressive performance at this event, with many of them taking home medals in all categories. This achievement is a testament to the hard work and dedication of these athletes, who have spent countless hours training and honing their skills on the slopes. The club's success is also a reflection of the quality of coaching and support provided by the coaches and the team. Overall, the Alberta Masters Ski Club has set a high standard for ski racing in Canada, and their success is sure to inspire others to strive for excellence in the sport. For full result list go to: https://alpinecanadamasters.racing/en/events/
---
Rides of March – Canadian Western Masters' Championships March 14-19, 2023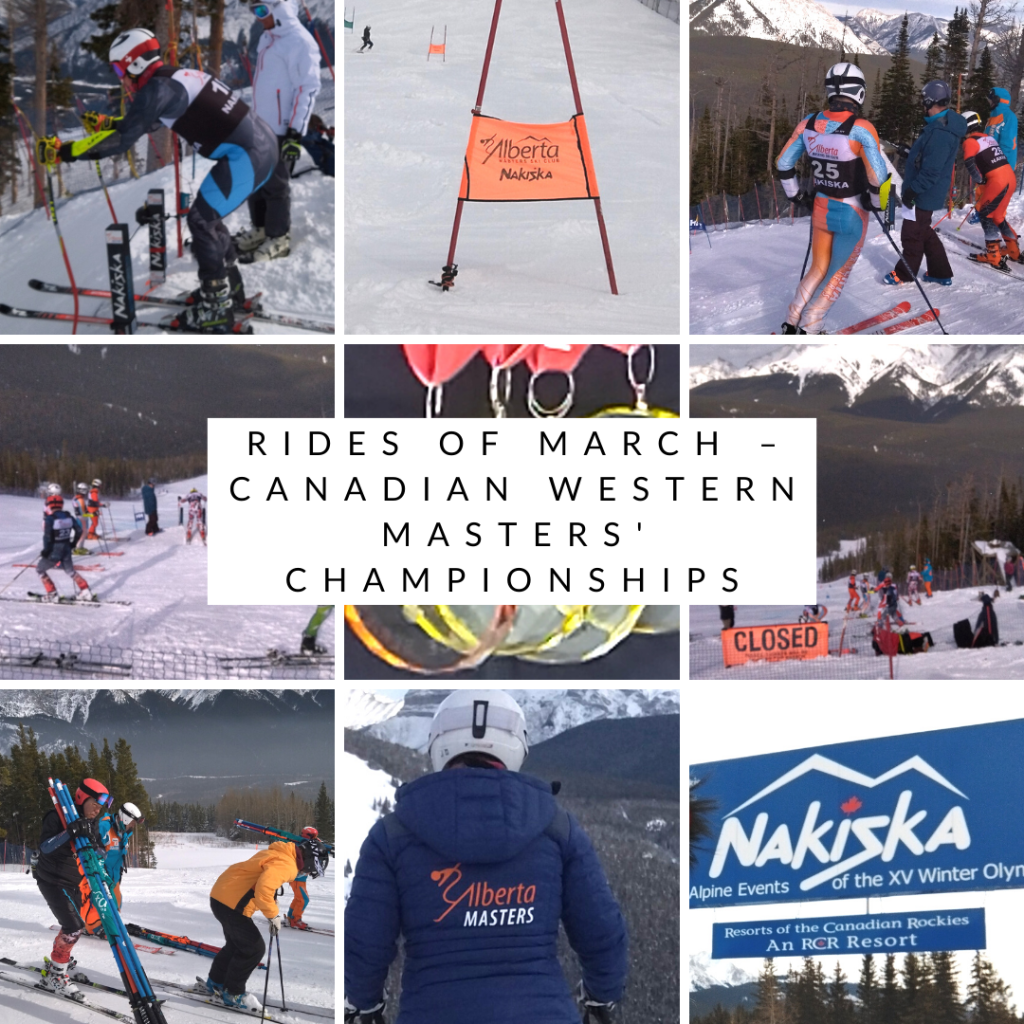 Our annual Rides of March race is an upcoming event hosted by Alberta Masters Ski Club at Nakiska Ski Resort, and it promises to be an exciting and unique event. This is a Masters race with a community aspect, as local U14 and U16 athletes may also be participating. This inclusive approach to ski racing highlights the fact that this is a sport for life, and that people of all ages and abilities can enjoy the thrill of competition on the slopes. By bringing together a diverse group of athletes, our Rides of March event creates a sense of community and shared passion for the sport, fostering a love of skiing that can last a lifetime. If you're a ski enthusiast or simply looking for an exciting weekend activity, come out to Nakiska Ski Resort on the weekend of the Rides of March and experience the thrill of ski racing for yourself.

Here is the schedule for the ROM camp and Races:
Tuesday March 14, 2023: ROM Camp SL Training

Wednesday March 15, 2023: ROM Camp GS Training

Thursday March 16, 2023: ROM SG Timed Training (2 runs)

Friday March 17, 2023: ROM SG Race 2 races

Saturday March 18, 2023: ROM GS Race – 2 run race and date for banquet

Sunday March 19, 2023: ROM SL Race – 2 runs race & SC results (1st SG run combined with 1st SL run)
---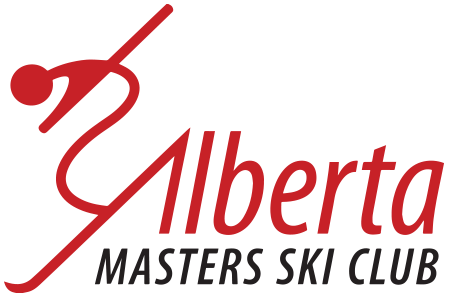 Instagram: www.instagram.com/albertamastersskiclub/
Facebook: www.facebook.com/AlbertaMastersSkiClub
Twitter: twitter.com/ABMASskiclub
Email: info@albertamastersskiclub.ca
by Mira Sandrik, Content Creator, Alberta Masters Ski Club