CRSR Hall of Fame 2023 Inductee – Lisa Thomson – Volunteer
Lisa Thomson: An Esteemed Member of the Canadian Rockies Ski Racing Hall of Fame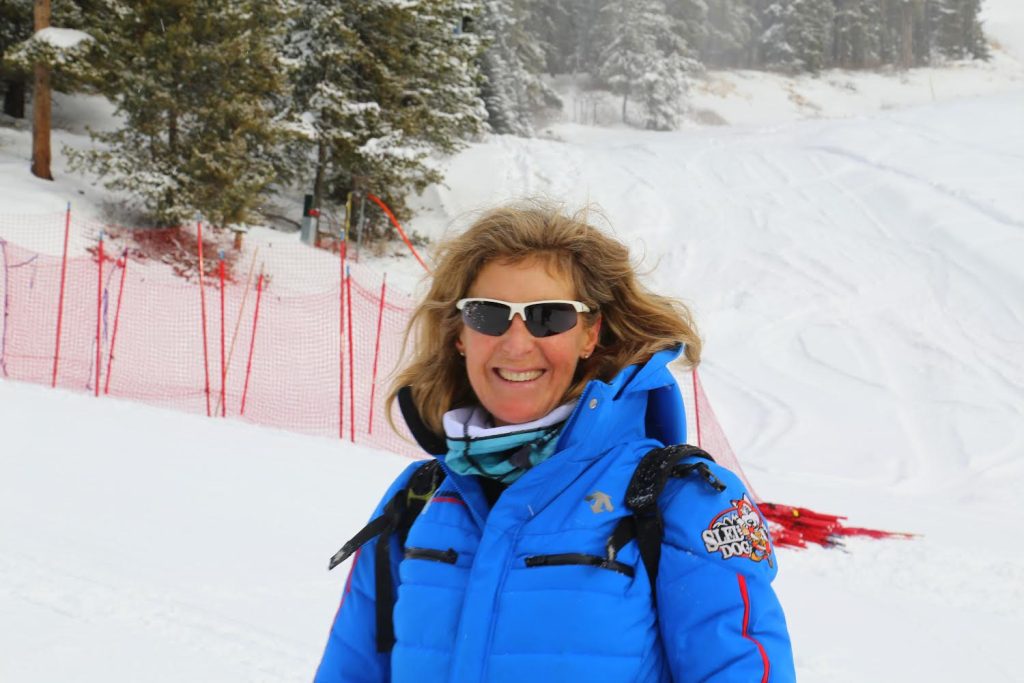 Lisa Thomson's remarkable journey in the world of ski racing serves as a shining example of unwavering dedication, passion, and the power of community. With over two decades of dedicated service to the ski racing community, her story is a testament to the transformative nature of the sport.
A Personal Connection and Lifelong Passion
Lisa's journey into the world of ski racing was inspired by her children, marking the beginning of her impressive career. Her passion for skiing, however, has been a lifelong affair, starting at the tender age of 2. Growing up with a brother who raced, Lisa spent her early years deeply immersed in the world of ski racing, experiencing the excitement of the slopes and the racing environment firsthand.
Diverse Positions and Achievements
Lisa's contributions to ski racing are both extensive and varied. She began volunteering in the ski racing world 22 years ago and has since worked with athletes of all ages, from Nancy Greene League-aged participants to those in FIS, NorAm, World Cup, Junior World Championships, and the IPC World Championships. Her dedication even extended to volunteering for Special Olympics races.
As part of the Banff Alpine Racers (BAR), she served as the Volunteer Coordinator for races such as Quickies, Caribou Cup, U14, U16, and FIS races from 2001 to 2014. Her experience is well-rounded, having held various roles both inside and outside the race fences. Beyond her club involvement, Lisa's dedication shines in her work with Nor-Ams and World Cup events. She served as a Sled Dog Course Worker for 11 years at the Lake Louise World Cup and held positions as part of the Race Organizing Committee (ROC) and Volunteer Coordinator for six years at the Lake Louise Nor-Ams from 2015 to 2021. Her contributions extended to international competitions, including the 2022 Junior World Championships and the Nor-Am Finals at COP/Nakiska in 2013 and 2014, where she took on roles in ROC, Volunteer Coordination, and course work. Her expertise also found a place within the Panorama Nor-Am volunteer team, and she held a paid position in communications and managed the media center at the 2015 IPC World Championships at Panorama.
However, Lisa's true passion lies not only in her impressive positions but in the camaraderie and collective effort of the ski community. She cherishes the moments when the ski racing community unites to overcome the challenges posed by nature and race logistics. She marvels at the fact that skiing is one of the few winter sports that starts with a blank canvas, constructs an entire race arena from scratch, and then, once the race is complete, leaves no trace of its existence. The monumental effort behind this process continues to inspire her.
Influential Mentors: Guiding Lights on the Slopes
Throughout her ski racing journey, Lisa had the privilege of learning from mentors who significantly shaped her path in the sport:
Barb Wood taught Lisa the art of coordinating volunteers and running races at the NorAm level, setting the stage for her future contributions to the ski racing community.
Randy Tarchuk, Lisa's crew chief at World Cup and Panorama for over a decade, played an instrumental role in imparting invaluable hands-on skills. These included building and maintaining racetracks, swift repairs, and replacements of b-nets, mastering essential tools like crampons, slipping, shoveling, raking, and more.
Bob Leitch and Todd McNutt, Lisa's Lake Louise NorAm chiefs for several years, provided her with comprehensive knowledge of running races from start to finish. Their professionalism, expertise, and composure left an indelible mark on Lisa.
Mike Irwin, serving as Panorama Chief and Race Chair for Junior Worlds, guided Lisa in understanding the higher-level aspects of ski racing. He taught her the nuances of navigating through the sport's politics and making things happen, all while maintaining a composed demeanor and an abundance of patience.
Lynda & Ken Read offered Lisa a broader perspective on ski racing, encompassing not only the sport's mechanics but also its history and the underlying passion that drives it.
Insights for the Ski Community
Lisa's message to the ski community is clear: get involved and develop your skills. Regardless of your skiing abilities, there's a place for everyone in ski racing. She encourages ski parents to participate, as their involvement sets a positive example for their children and creates a sense of community. For retired athletes, Lisa emphasizes the importance of staying involved and passing on their skills and passion to younger generations.
To young racers, Lisa advises showing appreciation to the volunteers who support their endeavors. A simple "thank you" can go a long way. She emphasizes the importance of hard work, a positive attitude, and having fun on the hill.
The Profound Impact of Ski Racing
When reflecting on how ski racing has contributed to her life and work, Lisa is candid about the great influence the sport has had on her. Ski racing has been more than a pastime or an extracurricular pursuit; it has been a deeply rewarding, transformative force. It has provided her with growth and confidence, and her unrelenting passion for it consumes her in the best possible way.
Lisa humorously admits to losing herself in social media, scrolling through ski racing clips and captivating races. Furthermore, she confesses to eagerly anticipating the arrival of winter and the promise of snowfall when the leaves begin to turn, a sentiment that may seem unconventional to some.
She describes the experience of racing down World Cup tracks with a drill in one hand, a roll of b-net in the other, and a backpack filled with essential tools as an extraordinary transformation. Her cell phone, always within reach for capturing photos, has become an ever-expanding gallery of racecourses and snow-covered mountain landscapes – many of which end up being replicated on her easel at her studio.
Perhaps the most powerful testament to the impact of ski racing on Lisa's life is the deep sense of community and the relationships she has forged. Her journey has been punctuated by enduring friendships, inspiring stories, formidable challenges, and moments of shared success. Through ski racing, she has witnessed a world both breathtaking in its beauty and awe-inspiring in its power.
In Summation
Lisa Thomson's distinguished induction into the Canadian Rockies Ski Racing Hall of Fame is a well-deserved honor, symbolizing her relentless commitment to the sport and the community it has nurtured. Her journey is an inspiring testament to the transformative power of ski racing, which has not only provided her with personal growth and confidence but also ignited a consuming passion. Lisa's unwavering dedication to the sport, her profound insights, and her commitment to fostering an inclusive and engaged skiing community are a source of inspiration for all. Her journey serves as a shining example of how individuals can make a lasting impact through their love for the slopes and the camaraderie of the ski racing community.
Author: Geoff Irwin