CRSR Hall of Fame 2023 Inductee – Jim Davis – Coach/Builder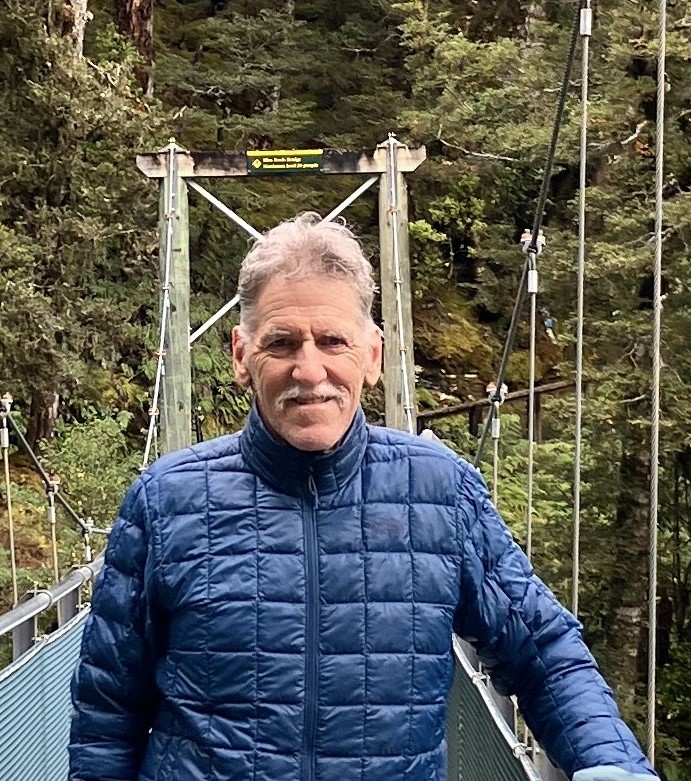 On December 30th, 1960, Mont Glen, located in the Eastern Townships,  opened for business with 2 t-bars and 5 runs.  Jim's Grandfather was a minority shareholder which prompted his family to embrace skiing in a serious manner (enrolment in a season-long weekend program). The Glen, although a magical place for many did not have a race program in those early years; but the snow school was run by Bob Richardson, a former Olympian and well-known Quebec ski racer. Ten-year-old Jim wanted to learn to ski like Bob.  In the mid-60's an ownership change at Glenn coincided with the opening of Bromont which did have a race program. The transition was made and within a couple seasons, Jim was racing regional FIS and Pontiac Cup events. Some fun history that Jim recalls:
Slalom courses still used three colours (blue, red and Yellow). The
Hiking the Slalom course was often faster than waiting in lift lines to take the lift
Bamboo gates with the tiny red triangular flags tied to the top
The Pontiac Cup was a big deal when it first commenced
The Pontiac Cup Finals at Bromont where the National Team showed up
Coaches trying to find affordable lodging and ensuring the rooms were not located above the bar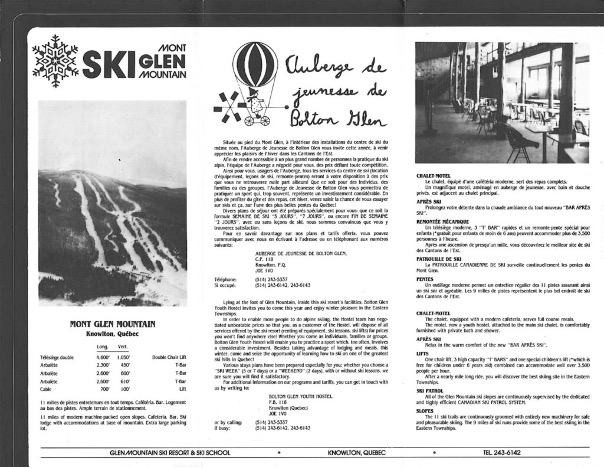 Jim stopped racing at age 18 and, following a test run at university, accepted a job at Bromont coaching the race program on weekends while teaching skiing during the week. Shortly thereafter, at age 21, Jim began his southern hemisphere exposure, accepting a job at a large, heavily Austrian weighted ski school in Thredbo, Australia while doing a little pro-racing on the side. During this period, Jim capitalized on his other area of expertise, training race horses to fill in the typical seasonal employment gaps. He says his first Olympic experience was as nite foreman at the Montreal Olympic equestrian site (Bromont) for the 76 summer Games.
Ski Coaching opportunities arose in 1975 when Jim began coaching for CAST. Starting the 1975/76 Season, Jim was Assistant Coach CAST Nor-Am Woman's Team (Dianne Culver head coach), coaching Alberta locals Vanita Haining, and Loni Klettl. The following year Jim took over the Head Coach role with Larry McKee assisting. He recalls a group of enthusiastic and hard-working skiers and still takes satisfaction from fact that each of the women on our team won at least 1 Nor-Am race. Jim finished his "tour" with CAST, assisting another Albertan, Bruce Henry, CAST Men's Europa Cup / Nor-Am Team coach. At that time, Albertan athletes in his "team" included Pete and Phil Monod, Keith Humphrey, and John Hilland.
After this impressive introduction to higher level coaching, Jim expanded his reach to New Zealand. Jim recalls standing next to Thunder Bay head coach Craig Speiss at the (then) annual Mt Sainte Anne DH when Craig learned his head coach has resigned. Jim capitalized on the opportunity which took him to Mt. Ruapehu, NZ summers as Head Coach from 1981 until 1984 while managing the ski school Mt Sainte Anne during the Canadian winters.
From 1990 to 1994 Jim was Program Director of Ski Racing New Zealand. The highlight of this experience was the success of Annelise Coberger (silver medal in the SL and first medal for a Southern Hemisphere athlete in any Winter Olympic sport) at the 1992 Albertville Games.
Jim landed in Alberta in 1994 as Program Director for Rabbit Hill Ski Club. He recalls the RHSC having a very effective club executive, a strong coaching staff, and a good group of athletes making it a great introduction into the Alberta Ski Racing Scene.
In 1996 Jim moved onto the Banff Mountain Academy where he served as Program Director for 3 seasons followed by 2 years with Banff Alpine Racers.
The next 10+ years (2000 – 2011) Jim took the helm at Alberta Alpine as Program Director working along side a host of great local AST coaches. He recalls a strong team of athletes and a very good coaching team. Team and individual results at the NAC and World Junior levels were very gratifying and several athletes moved on to successful careers on the World Cup as athletes and/or coaches. He also acknowledges the satisfaction of seeing many of the AST athletes from that era back in the sport as coaches and/or volunteers in Alberta and ACA programs.
Jim's final active years coaching took him to Team Panorama and subsequently Banff Alpine Racers.
Throughout the above working years, Jim was also active with the Canadian Ski Coaches Federation (78-2022) as CSCF and Learning facilitator working with young coaches on their certification courses and in practical learning situations. Jim also volunteered on the Board of the CSCF and was the Chair of the organization from 2000-2004.
With 50 years in the game, Jim says it's hard to pin down only key highlights but, says that the world class results from athletes who came through programs he managed over the years were very gratifying. And, equally so break-through results from athletes at the development level.
Jim was recognized in 2000 by the CSCF and the Coaching Association as a Level 4 and Chartered Professional Coach. Not surprisingly he says the technical / practical part of the Level 4 came fairly easily. However, there were also academic credits required which he took through the National Coaching Institutes at the University of Calgary and the University of Victoria. Jim's sense of humour is illustrated as he points out that due to his "inglorious exit" from classroom education in his late teens he was proud to achieve the academic portion of the Level 4 program at that later stage in his life.
When asked who were his key influencers, Jim said he feels very fortunate to have had some excellent mentors throughout his career. The person that stands out is Dave Mazey who retired as the GM of Ruapehu Alpine Lifts several years ago. Given its maritime climate and the odd volcanic eruption Ruapehu is an exceptionally difficult place to run a ski area, but Dave did so for close to 30 years. He was very supportive of ski racing and several NZ Olympians came through the race programs at Mt. Ruapehu. Jim appreciated Dave's management style in that it was inclusive but firm at the same time. He included a lot of people in decision making and policy development and encouraged active and vigorous debate throughout the process. However, once decisions were made, he was very clear that all staff were expected to fully support those decisions regardless of their personal opinions. That's a lesson that served Jim well throughout his career.
Insight for the Community: It takes a village to raise a ski racer. With many stakeholders play an important role to help make good things happen in our sport. For those that have worked with Jim they are well aware of his calm, steady demeanor and strong listening skills. Critical reflection is something Jim felt he had success with throughout his career. Reflect on the things you need to do better as an individual /or group and how to improve. Spend an equal or greater amount of time reflecting on strengths and how to lever them to improve performance.
Jim was inspired recently by and article in this spring's Ski Racing Magazine on the Norwegian development system. He made the observation that Bærums Skiklub which develops many of that nation's top skiers has roughly the same vertical drop as COP leading him to think that COP is an asset that our sport has not been able to take full advantage of.
Tips for Young Racers: Teammates are a great resource. Figure out who on your team is the best at various elements and try to be like them . Be supportive of your teammates who will often become lifelong friends. When everyone is pulling for one another, disappointments become easier to deal with and the achievements become more enjoyable. Never give up: Even at the highest levels of our sport athletes make mistakes. Make sure that you don't allow a bad turn to become a bad run, or a bad run to become a bad day of training, or a disappointment on the first day of a race series impact your performance for the entire series. Having the grit to bounce back from sub-par performances is super important.
Ski Racings Contribution to my Life: Ski Racing has had a huge impact on my life as I was able to turn something I really enjoyed as a youngster into a career. Met some very interesting people, travelled to some beautiful places, got to work with some very focused, talented athletes and coaches, and made some fantastic friends. Most importantly, it taught me that to be successful I had to become more proficient at things I didn't really enjoy doing: public speaking, office work, and conflict resolution would be 3 of the key areas.
It makes me happy that both of my daughters who did a bit of ski racing are "skiers for life" and to know that both my grandsons who are based in Queenstown, NZ took up the sport this year. Looking forward to making turns with them on my next visit down under.
Club: Banff Alpine Racers.
Current Occupation: Retired,
Summers: golfing weekly with other Coach Alumni: Bruce Henry, Ray Sequin, Mike DeBrisay
Winters: Midweek skiing (Norquay/Sunshine), occasionally fill in coaching, occasionally can be found on the end of a shovel if there is a mid-week race at Norquay.