CRSR Hall of Fame 2023 Inductee – Dan Gallaugher – Official/Builder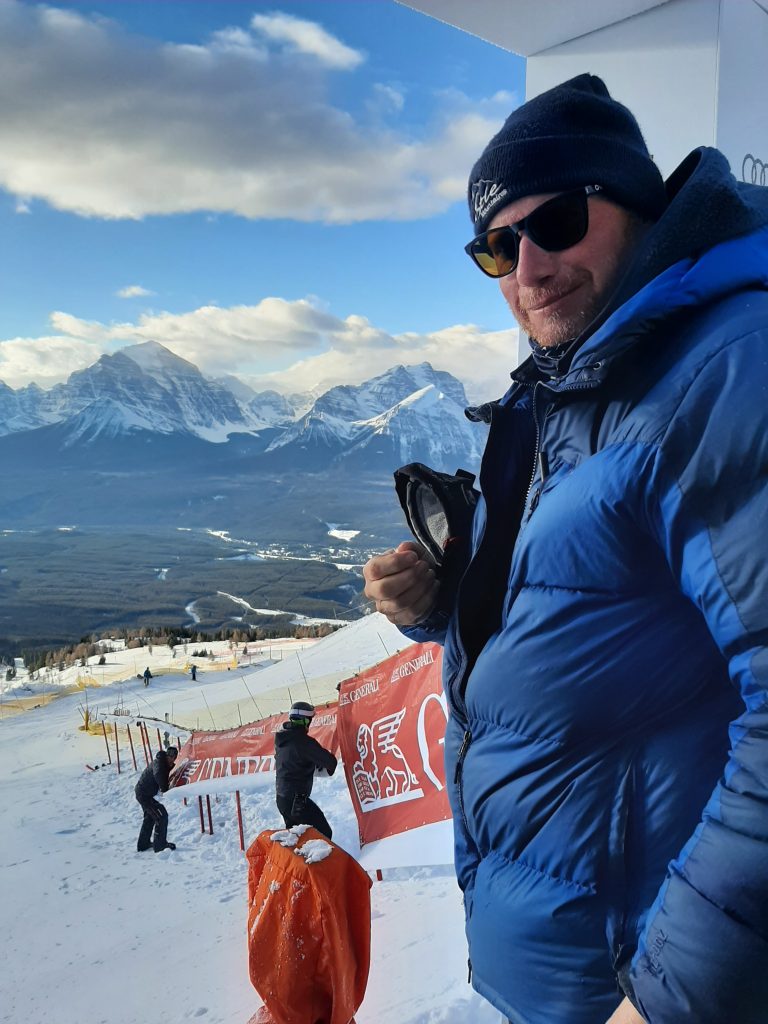 Dan Gallaugher, honoured Official and Builder of the class of 2023, became involved in ski racing with his Grandparents. Hardworking farmers, they had a love for the outdoors, and wanted their grandchildren to have the opportunity to ski. Their amazing dedication to travelling big distances gave the opportunity of skiing to their family.
Dan has many key highlights from his involvement in ski racing, including many Nor-Am events in Canada, World Junior Championships, World Cups, and the 2010 Olympic Winter Games.
One of the biggest highlights Dan listed was being a part of the hard-working Race Quality Team with Alpine Canada, working at many Nor-Am events right across Canada, building race tracks for the athletes. He also enjoyed working with the snow and building Downhill tracks and being a part of making terrain and features for the World Cups in Canada with so many great people from the paid crew to all the hard-working volunteers. "It is an amazing privilege to work with so many people that share the same goal to create the Race." During the 2010 Olympic Winter Games. Weather, and freezing levels at mid-mountain and above, made it a challenge to pull off, but he found it amazing to have so many volunteers and machines to work with.
"My work was skiing ,"Ski Racing" I treated it like my farm, it made me a better person and taught me so much that I am forever grateful to have had the opportunity to work in and alongside so many amazing individuals."
Dan's mark can be found throughout Canada, as his contribution was not just for the events. He helped with track design, slope gradients and widths. His expert eye could examine a slope and see the technical challenges, always keeping athlete safety in mind. From Whistler, to Lake Louise, Panorama, Nakiska, Mt. Ste. Anne, Georgian Peaks, Castle Mt., Kimberley and more – he worked with the local organizing committees and all Canadian hosted FIS Junior Alpine World Ski Championship events, bringing praise especially for 2013 Quebec and 2022 Panorama.
His deep experience gained from working closely with the FIS World Cup Race Director Helmuth Schmalzl and his personal commitment of working with Bruce Hamstead, the late Bill McNenny and Darrell MacLauchlan, Claudio Berto, Bill Wearmouth, Ozzie, Owen Carney and Mike Stone – all passionately committed to giving Canadian athletes the tools they needed to succeed: good races, great tracks.
Dan brought that critical international level experience needed to give athletes a sense of what lay in store if they had a chance to race World Cup.
The past few years, Dan has helped build the reputation of Castle Mountain, his home mountain. Bringing insight for pre-season training needs, safety and lending advice for building tracks.
His experience spans a coaching career at the provincial and national team level. He led the Canadian men's Europa Cup/Continental Cup Team and worked with the World Cup speed team.
I truly hope for the Worldcups both men & Women speed that in some way we can continue on to provide a race in Canada.
And for younger athletes "Believe in yourself and take in everyday you are on your skis every turn, there truly is nothing better then to be skiing and living a life on the Mountain"