CRSR Hall of Fame 2023 Inductee – Blais O'Brien – Canadian/Alberta Ski Team Alumni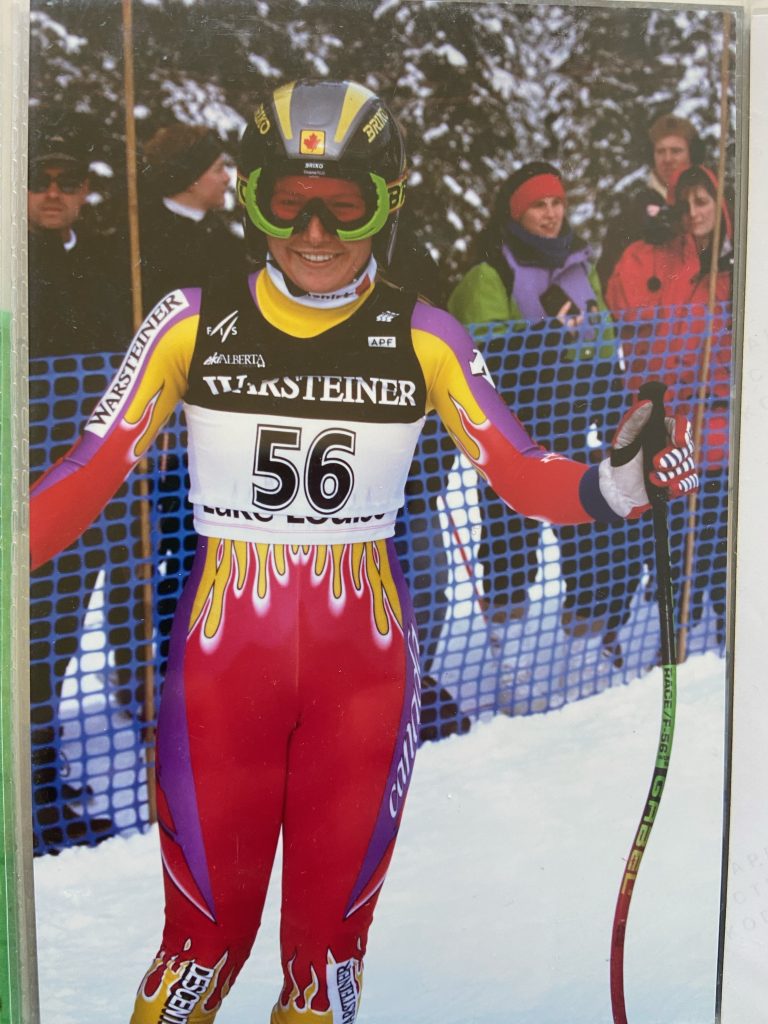 Banff, AB – Growing up in the Mullen house was all about skiing. As prairie folk, Blais' parents, Lorne and Elaine, relished in going to the mountains and made the trip with their 3 kids, every weekend, all winter. Their love of the mountains and skiing was immense and the family made the decision to move to Banff. Blais, age 5, and her older brothers, Shawn and Cary, were part of the Sunshine Racing Club where they spent the days ripping the slopes with Shanne Levitt and later, Claudio Berto. Blais recalls chasing the "big kids" including Darren Thorburn, Rob Mix and of course her brothers. As a youngster she wanted to "tuck and go fast", a natural racer. Her parents were avid volunteers, with the mountain patrol and as officials at local races, while her brother Cary often followed and mentored his little sister.
When Blais turned 10, the family moved the kids to the Banff Alpine Racing team, which had just been started by the Wiegele family. By the time Blais was 15 she had a Canadian juvenile title (now U16) under her belt, was a formidable ski racer, and was selected to the Alberta Ski Team. During her years on the Alberta Ski Team, she won several Canadian Junior titles and was subsequently invited to the Canadian Alpine Ski Team at age 17. Career highlights include a top 15 at the 1994 World Juniors in Lake Placid, a Nor-am win, 2nd place at the Canadian Championship downhill, and 11 World Cup and 7 European Championship starts.
In the years that followed her retirement from ski racing, Blais turned her focus to building a real estate business and starting a family. Ski racing "set me up with discipline, goal setting and a serious work ethic" all of which contributed to her dedication and successes. Her young family was introduced to racing, initially with the Snow Valley Ski Club in Edmonton before the move back to the Banff Alpine Racers and Bow Valley Quikies which she's been an integral part of the club since 2012.
Everyone who knows Blais, say she embodies the term "passion for your work". She has cultivated that passion into every athlete or coach she has worked with for the 10+ years she been a part of the BAR/BVQ team. Coaching requires a lot of energy, which does not end at the end of a session, coaching is an "athlete first" role and Blais has showcased this while balancing the most important role in her life as a mother of four incredible kids who have all been or are still a member of BAR/BVQ family. In 2019 Blais took over the role of BAR U14 Head Coach from Jim Davis, a fellow 2023 inductee. Replacing a fellow Sports Hall of Fame inductee are clearly very big shoes to fill and Blais now moving into her 4th year in this role continues to lead the U14 program with the vision of building character, passion, and team work. These are life lessons every athlete and coach will benefit from in any future endeavours. The Banff Alpine Racers and Bow Valley Quikies are all so proud of Blais and congratulate her on this prestigious induction.
As an athlete, parent and coach of young ski racers for over 40 years, Blais' passion for the sport runs deep and her philosophy strong. She believes the ski racing community must be supported by "at home" solutions and WE must continue to mentor and develop excellent coaches, and invest in high quality venues to train and race at home. As a racing community it is vital to have this local infrastructure to reduce travel costs for families as well as to host higher profile races such as Nor-Ams and World Cup in order to continue to grow the Canadian development system.
And to all those athletes striving to be their best, Blais would confidently advise, "No Whining! Be smart about injuries. Don't rush. Train hard, go fast, have fun and enjoy the process. You are creating your future self, skills and friendships that will last a lifetime".
The Canadian Rockies Ski Racing Hall of Fame is pleased to recognize Blais O'brien, our 2023 Honoured Canadian and Alberta Ski Team Alumni, for her accomplishments as a ski racer and for her enduring passion and dedication to the racing community.