Vanessa Alboui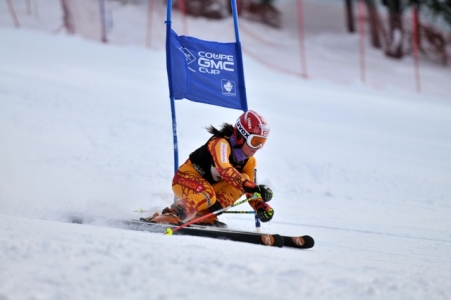 ---
1.    What club(s) did you ski with? Kananaskis, National Alpine Training Center
2.    Who were some of your coaches?   Scott Zahn, Ian Fulton, Andrew Sartisson, Mike Marsh, Mike Necesanek.
3.  Highlight of your career with the provincial team? Forerunning the Lake Louise downhill and getting to warm up and ski down the same track as many of my role models.
4.   Highlight of your ski racing career? It's hard to come up one highlight but meeting all the great people I have and getting a chance to travel the world pretty much sums it up.
5.    Who were some of your teammates?   Vicky Michalik, Tianda Carroll, Tess Davies, Steph Irwin, Logan Thackray, Jenn Saunders, Cath Wood, Andrea Turner, Thea Miles, Celine Rytz, Katie Gibson, Madi McLeish
6.    Do you have any tips you'd like to pass on to young racers? Don't get caught up in people who aren't willing to support you, dream big but make sure to work hard to achieve your goals.  Also never forget to risk it to get the biscuit.
7.    What are you doing now? I am currently studying environmental geology at the University of Calgary and coaching on the weekends.
8.    Are you still involved with ski racing? How?  I am coaching U10 with NASA and enjoying every minute of it! It feels great to give back to the racing community, which I have been a part of for the majority of my life, and it's great to experience the feeling of kids looking up to you like I looked up to my coaches when I was younger.
9.    Would you tell us a little about how ski racing has contributed to your life and work? If it weren't for ski racing I wouldn't be the person I am today. It has taught me to the meaning of hard work which has helped in my academics. It has given me the chance to travel the world, which I would have not been able to do by this time in my life not to mention I got to travel the world with the girls that would become a family to me.
10.    Anything else you'd like to add? The years I spent ski racing were some of the best years of my life. I am so thankful to everyone who supported me throughout the years (especially my parents), and I won't forget any of the memories that I have made throughout my ski racing career.