Trevor Philp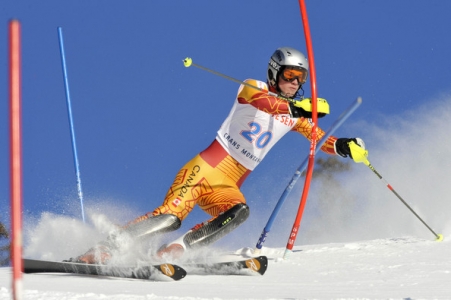 ---
Trevor Philp, ski team member from 2009-2011
1. What club did you ski with and how many years were you on the Alberta Ski Team?
I grew up skiing with the Banff Alpine Racers, right from Nancy Greene days to spending 2 years in their junior program. I spent one year skiing fully for the Alberta Ski Team, and then another year split between the Alberta Ski Team and the Canadian Prospect Team.
2. Your age? 19
3. Who were some of your coaches?
K1/K2- Stephanie O'Brien, Duane Baird, Mike Marsh
FIS- Thomas Penney, Chris Mcknight, Cam Stephens
AST- Richard Jagger, Duane Baird
Prospect Team- Kip Harrington, JF Belisle
4. Highlight of your career with the provincial team?
My first year on the team we trained and raced for a month traveling around Europe! That was the most incredible experience at the time! Also forerunning the 2010 Olympics in Whistler was amazing, running both the men's and women's downhill courses.
5. Highlight of your ski racing career?
So far, placing 11th and the World Junior Championships Slalom race this past year in Crans-Montana, Switzerland.
6. What are you doing for the summer?
This summer I will be working out to keep fit for next season, as well as working at a new German restaurant/beer hall in Calgary.
7. What will you be doing next fall?
The fall will take me down the Denver, CO where I will be attending the University of Denver getting an education as well as skiing for their ski team.
8. Do you have any tips you'd like to pass on to young racers?
Have fun with what you do!
9. What took you most by surprise when you joined the AST?
The friendly teammates.
10. What is your favourite ski area and why?
Norquay! Nothing like a good Big Chair run.
12. Music on your ipod?
Quite a lot, but LUPE has some hot songs.
Trevor Philp