Tess Davies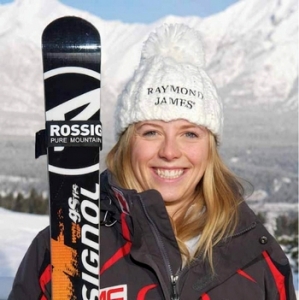 ---
Alumni Update #2: Tess Davies, AST member 2008 – 2011 , Currently a Canadian Alpine Ski Team Prospect Team Member.
1. What club did you ski with and how many years were you on the Alberta Ski Team?
I was with Banff Alpine Racers and then skied with the Alberta Ski Team for 3 seasons
2. Your age? 20
3. Who were some of your coaches? Mike Necesanek, Mike Marsh. Chris Mosaed and Todd Haywood and Pete Diesroth also coached me during my time on the Alberta Ski Team. Prior to that, my coaches at Banff Alpine Racers were Tom Penney, Chris McNight, Jeff MacPherson, Evan Peters, Momo Kagatani and in K2 I had Duane Baird and Steph O'Brien.
4. Highlight of your career with the provincial team? There's been a lot of highlights with the team but the Europe trips we took both in 2010 and 2011 were some of the best learning experiences and most fun I ever had with the ski team.
5. What are you doing for the summer? Over the summer I'll be training hard with the CAST Prospect Team in the gym and on snow as well as enjoying some summer sunshine! (fingers crossed)
6. What will you be doing next fall? In the fall I'll be continuing to train both on snow and in the gym to be as ready as I can be for the race season.
7. Do you  have any tips to pass on to young racers? There's no such thing as too much skiing!!!! Groomers, Crud, Moguls, Powder, Cliffs, Park. The more comfortable you are on your skis the better you'll be in the course. Just have FUN with it.
8. What took you most by surprise when you joined the AST? The first week of the double training sessions + school.
9. What is your favorite ski area and why? There really aren't a lot of ski area's I don't enjoy but I think it comes down to the people you happened to be skiing with when you were at that particular area. For that reason I'd have to say Kicking Horse I've never had a bad day there the snow hasn't always been the best but the memories are amazing!
10. Book you're reading now? Currently I'm rereading the Harry Potter Series to get ready for the final movie to come out in July.
11. Music on your ipod? At the moment I'm listening to the soundtrack to Country Strong. I just watched the movie and really enjoyed it.
Tess Davies