Sherry Lawrence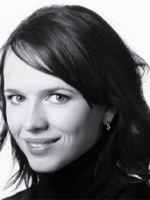 Member from 2002-2002 and 2002-2003
---
What club(s) did you ski with?   KASC and NATC
Who were some of your coaches?  Sean Fynn at the K1/K2 level, Grant Richardson and Scott Zahn in K2 and FIS, Mike Necesanek on the Alberta Ski Team and Rob Boyd on the World Cup
Highlight of your career? Competing for Canada in the 2006 Torino Olympics
Who were some of your teammates?  My closest team mates and two of my best friends to this day are Shona Rubens and Kelly Vanderbeek
Do you have any tips you'd like to pass on to young racers?  Enjoy the ride.
What are you doing now?   Becoming a registered architect and sharing the role of Program Director and U12 coach of the Sunshine Speedsters with David Anderson.
Are you still involved with ski racing? How?  I get to pass on my love of the sport to our club and to my group of racers. Athletes spend a lot of time with their coaches and I'm lucky to be in a role where I get to influence young racers both in the sport and as individuals. It's a lot of fun to see a young person push themselves and do what they didn't think was possible. This sport is very empowering.
Would you tell us a little about how ski racing has contributed to your life and work?  I'm not sure what facet of my life has not been influenced by ski racing. I feel so lucky to have been able to pursue my goals in sport, academics, and now my work life. I used my tuition credits from the athlete carding system to cover the cost of my business degree. I probably wouldn't have become an architect without the encouragement of an influential friend and mentor and from the high expectations you have for yourself after competing at a high level.
Anything else you'd like to add?  Without ski racing I would not have gotten involved with coaching and been able to meet countless amazing young athletes and their families who have also shaped and influenced my life. I also wouldn't have met my husband or my lifelong friends.