Pete Bosinger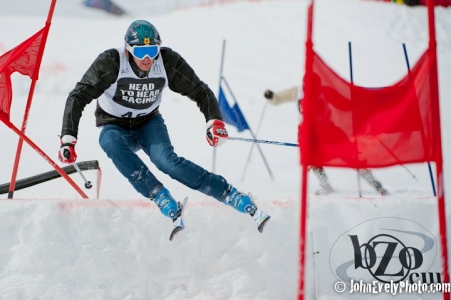 ---
1.    What club(s) did you ski with? Sunshine Village
2.    Who were some of your coaches? Jaques Morrel, Marty Hansen, Ray Seguin, Chris McReady
3.    Highlight of your career with the provincial team? Being a part of a team of dedicated athletes as we taught each other life long lessons.
4.    Highlight of your ski racing career? Racing in the 1988 Winter Olympic Games
5.    Who were some of your teammates? Rob Bosinger, Tom Podivinsky, Jordy Burks, Gord Perry, Ron Kuus, Todd McNutt, Troy Panrucker, Jim Thorburn, Fraser Ross, Ken Anderson, Reto Robinson, Scott Bexton Sharol and Karen Percy, Jennifer Percy, Lynne Radistats, Anne Taciuk and many more.
6.    Do you have any tips you'd like to pass on to young racers? Believe in yourself!  To make it to the next level in any sport an athlete needs to make their own decisions with direction from coaches. There are no shortcuts, hard work and a winning attitude will develop the confidence to reach your goals.
7.   What are you doing now? ACA, Director of Events

8.    Are you still involved with ski racing? How? I have coached both the Canadian and US ski teams.  The knowledge I took from coaching provided the foundation to accept the role of Sport Manager, Alpine Skiing at the 2010 Olympic Winter Games prior to my current position at ACA.
9.    Would you tell us a little about how ski racing has contributed to your life and work?Ski racing has taught how to work hard for the goals and objectives I set for myself. I have been fortunate to stay in this great sport in a number of capacities by taking what I learned as an athlete and applying it to future challenges.
10.    Anything else you'd like to add? Alpine skiing is a rewarding experience and what you learn as an athlete can be applied to anything you do in life. The friendships you develop through your athletic career will last forever!!