Morgan Waldo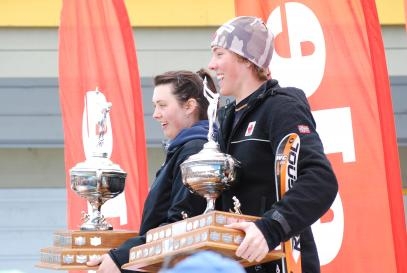 ---
Morgan Waldo – AST Alumni from 2009 to 2011- attending U of C in the fall.
1.   What club did you ski with and how many years were you on the Alberta Ski Team?

From 2008-2009 I was skiing with NATC and prior to that I was with the Sask Provincial Team for almost 6-7 yrs
2.   Your age? 20
3.   Who were some of your coaches?

Ian Fulton
Scott Zahn
Sean Cameron
4.   Highlight of your career with the provincial team?
Coming back from injury and working with some of the best coaching staff in Canada in an attempt to return to racing. The experience I gained and what I learned in those few months I'll carry with me for the rest of my life
5.   Highlight of your ski racing career?
Being from Saskatchewan and qualifying for the Alberta Ski team
6.   What are you doing for the summer?
Working for Vector Marketing as an Assistant Manager and customer sales and service representative.
7.   What will you be doing next fall?
Also working for Vector Marketing as well as going to U of C for my undergraduate in Law and Society
8.   Do you have any tips you'd like to pass on to young racers?
DO NOT GIVE UP WHEN YOU"RE KICKED DOWN!!!! There are going to be so many times in your career where it's not a high and you're dealing with a low but the good times will come back if you keep working for them and really want them. When you set your mind to something, anything, you really can do it. Remember those Olympic athletes are human too, the only extraordinary thing they have about them is that they've set their mind to doing their very best in their expertise.
9.   What took you most by surprise when you joined the AST?
It's not so much at the beginning but right now. My best friends and some of the most important people in my life are the people I met while skiing with the AST. They were there for me not only through the first time I broke my leg but the 2nd and then some!! I can't imagine a day where I don't at least fire off a text to say hi.
10. What is your favourite ski area and why?
I'm going to be bugged about this but I love Nakiska!! Since the first time I broke my leg I'm just such a baby when it comes to powder and absolutely love ripping around on groomers
11. Book you're reading now?
Leader Without a Title, The Book of Awesome, The Book of EVEN MORE Awesome and Pirates of the East Coast
12. Music on your iPod?
Nathan Wiley, Bon Iver, Steve Aoki, MSTRKRFT, Lykke Li etc
13. Anything else you would like to add?
Skiing is such a unique sport that you learn to rely on yourself to compete against yourself but you have a serious underlying passion for competition against your friends and peers, take what you learn through your travels and apply them to your every day life. I've learned how to live on my own, budget my money, have a full time job, spend time with friends and family and still keep a healthy balance between all of these and keep time to myself as well. Work hard and play hard. The harder you work the more you get to play!! Ski hard this season and make us all proud!!