Michael Mackie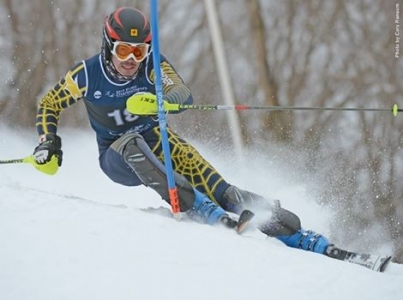 ---
1. What clubs did you ski with? I started ski racing with the Sunshine Ski Team then switched to Banff Alpine Racers.
2. Who were some of your coaches? Some of the coaches I had were Brett Zags, Richard Jagger, Duane Baird, Peter Rybarik, Andrew Lambert, Rob Bosinger, and countless others.
3. Highlights of your career with the provincial team? There are so many highlights on the provincial team it would be hard to list them all. I think making World Juniors and competing against some of the best young athletes in the world would be one of the top ones.
4. Highlight of your ski racing career? Making the Canadian Development team and getting to compete with the best Canadian athletes.
5. Who were some of your teammates?  Geoff Irwin, Cam Brewington, Travis Dawson, Dustin Cook, Sean Alexander, Tyler Nella, Jeff Crompton, Brady Leman, Louis Pierre Helie, Jeff Frisch and so many more.
6. Tips for younger ski racers? Don't let the politics of ski racing and all the other distractions of the sport get in the way of what you love and just focus on the enjoyment of ski racing.
7. What are you doing now? I'm currently going to University at Montana State where I will be graduating with a Bachelors Degree in Science with an emphasis on Earth Sciences in Physical Geography.
8. Are you still involved with ski racing? How? I am still involved in ski racing this season I will be helping to coach and manage the Montana State Ski Team
9. Would you tell us a little about how ski racing has contributed to your life and work? I think that ski racing helped me develop and mature at a much younger age, by the time I was 14 I was spending months away from my parents in Europe skiing. I think this helped me become more resourceful and self reliant. I also think ski racing made me more aware of the environmental aspects of winter and seeing the deterioration of glaciers and snow around the world.
10. Anything else you'd like to add? Ski racing was one of the best experiences of my life and the friends that I have made through ski racing I will have for life. Enjoy it while you can!