Marcia Clark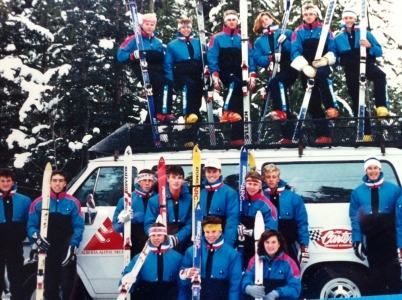 ---
Dr. Marcia Clark is front row, centre with yellow headband. See below for complete roster.
1.    What club(s) did you ski with?  Banff Quickies (inaugural year) and Banff Alpine Racers
2.    Who were some of your coaches? Max Gartner, Mike Wiegele, Rudi Geisler, Ken Vogel, Reinhard Erberl
3.    Highlight of your career with the provincial team?  Cavendish Cup Overall 1986, Canadian Championships 3rd place in Slalom 1988
4.    Highlight of your ski racing career?  Forerunning the 1988 Olympic slalom, 24th place Sunshine World Cup DH 1986.
5.    Who were some of your teammates?  Edi Podivinski, Brian McClennon, Cathy Jary, Andrea Marchand, David Harvey, Darren Thornburn, Cary Mullen, Tasha Tallas
6.    Do you have any tips you'd like to pass on to young racers?  Set daily, monthly and yearly goals. Keep track of your goals and accomplishments. Listen to your coaches, they are looking out for you and can see the forest through the trees. Think about a back up plan (Like NCAA and school)
7.    What are you doing now?  I am an orthopaedic surgeon at the University of Calgary at the South Health Campus
8.    Are you still involved with ski racing? How?  I provide medical care to the Canadian National Alpine Ski Team. All my 3 children are in the Bow Valley Quickies Program, so now I am a ski racing mom.
9.    Would you tell us a little about how ski racing has contributed to your life and work?  Ski racing and the skill set that it taught me, allowed me to set goals and realize that I could do anything that I set my mind to. With a scholarship to the University of New Mexico for NCAA racing ( a great circuit!), led to gaining a post secondary education. This then lead to going to Medical School and then Orthopaedic Surgical Training. After 17 years of post secondary education, I am now an academic surgeon at the University of Calgary. I still travel around the world teaching other surgeons and am helping shape medical education in Canada. The farthest I have been to teach is the Kingdom of Saudi Arabia.
TEAM PHOTO 1986-1987
Top Row: Scott Bexton, Kendal Hunter, Martin Lumby, Catherine Jary, Troy Panrucker, Cary Mullen
Middle Row: Reinhard Eberl, Jeff Ritcey, Troy Panrucker (sic), Edi Podivinsky, Nils Blomberg, mike Jacoby, Andrew Jakubiz, Bruce Rimmer (coach), Max Gartner, (coach)
Front Row: Camilla Burks, Marcia Clark, Lynn Radostits