Madison McLeish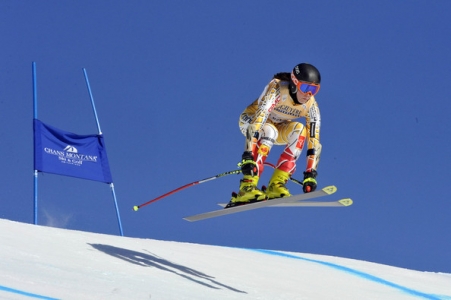 ---
1.   What club did you ski with and how many years were you on the Alberta Ski   Team? ASA, 2 years on the Alberta Ski Team
2.   Your age? 18
3.   Who were some of your coaches?  Mike Necesanek, Chris Mosaed (Mozy), Cam Stephen, and Mike Marsh, although in   my second year with the team I didn't get to spend a lot of time with Mike M. or Cam S. due to being with the Prospect Team for the majority of the year.
4.   Highlight of your career with the provincial team?
One of my most memorable days from my time on the team was the slalom at Nor-Am finals last year in Waterville Valley; Jennifer Saunders and I both started in the late 60s and finished in the top 30 after our first runs. We jumped up and down with excitement because it was the first time either of us had broken the top 30 in a Nor-Am that season.
5.   Highlight of your ski racing career?
Winning at the Canadian National Championships this year was pretty special; it was cool to share the podium with Britt Janyk and realize that I'm starting to ski at a whole new level.
6.   What are you doing for the summer?
 Training with the Canadian Ski Team both in the gym followed by an on-snow camp in New Zealand for a month at the end of July.
7.   What will you be doing next fall?
Skiing with the Canadian Alpine "C" Team
8.   Do you have any tips you'd like to pass on to young racers?
Keep fighting no matter what! We're in a tough sport because some days the weather gets to you, other days it's frustration after a bad race or training session; you have to keep fighting through all of the tough days, and that means doing your best to be confident, believe in yourself, and stay positive!
9.   What took you most by surprise when you joined the AST?
The commitment level; despite how keen I was to do so, the extensive time commitment did take some getting used to, particularly the time spent in the gym!
10. What is your favourite ski area and why?
Whistler, BC. I grew up skiing in Whistler and I've always loved skiing straight from the peak to the base when it's groomed, and there are few places better when there is fresh powder!
11. Book you're reading now?
 "What to Eat" by Marion Nestle; I was browsing in Chapters when I stumbled across this book, and I'm glad I did because I'm learning a lot about the foods I eat everyday.
12. Music on your ipod?
 A little bit of everything as long as it has a great beat or melody. Recently I've been listening to a lot of techno and trance music.
13. Anything else you would like to add?
Skiing with the Alberta Team was an amazing stepping stone on my way to the national team; one that prepared me immensely for this next step in my ski racing care