Jeff Durand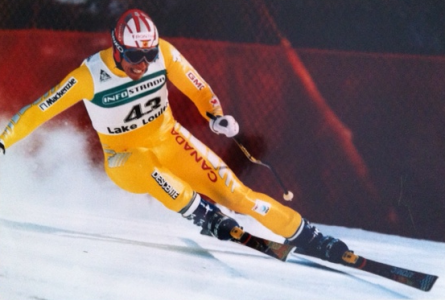 ---
Alberta Ski Team Member 1994
1.    What club(s) did you ski with?
•    Lake Louise Ski Club (NG through First year FIS)
•    Romark Ski Academy (Second year FIS – 16 years old)
•    Banff Mountain Ski Academy (Third year FIS – 17)
•    AA (18)
•    Western Regional Team (19)
•    National Team (20 – 25)
2.    Who were some of your coaches?
Mike Koper, Chris Leman, Wendy Lumby, Olle Larsson, Rob Bosinger, Dave Kerwynn, Willy Raine, Pete Bossinger, and Mike Syrovatka all had a big impact along with many others along the way.

3.    Highlights of your ski racing career?
The whole experience – learning so much, skiing in some of the most beautiful places, the friendships, overcoming hardship, and the joy of skiing – tones of 'G's in wicked turns, going fast, and flying off big jumps
Results – highlights
•    World Juniors in Voss, Norway (17th in DH)
•    Winning the Nor-Am Cup Downhill title in 96/97
•    Winning 4 Nor-Ams in a row in Sugarloaf (2DH and 2SG) en-route to winning the Nor-Am   Cup Overall and Downhill titles in 98/99
•    2nd in National Champs DH & SG 98/99
•    21st in Val Gardena & 30th in Kitzbuehel 99/00
•    Coming back from a wicked crash in Kitzbuehel to have 3 Nor-Am podiums in 4 days at Whistler as well as 2nd and 3rd in National DH & SG – respectively 00/01
5.    Who were some of your teammates?
Some of the AAST teammates were Trevor Jensen, Darin McBeath, Jesse Seguin, Scott Mackie, Robin Bauer, Stephan Butler, Colin Bakker, and Desmond Kingsford.
6.    Do you have any tips you'd like to pass on to young racers?
Always try your best, keep a light heart, an open mind, have fun with you team mates, and push your comfort zone.

7.    What are you doing now?
Being a dad for our two little ones (Ruby 2yrs old and Tommy 3 months), getting out to the mountains as much as I can, and doing some geophysics to fund it all.
8.    Are you still involved with ski racing? How?
Since I retired in 2001, I've coached 10 seasons – including 5 great seasons with Lake Louise Ski Club. While I still love working with athletes, and I look forward to getting back into it in the future, I am really enjoying spending as much time as possible with my young family.
9.    Would you tell us a little about how ski racing has contributed to your life and work?
I'm not sure that I can think of an aspect of my life that hasn't been influenced by ski racing – I met my wife, Holly, coaching, most of me extended family is involved with the sport, my love of being in the mountains and curiosity about their origin contributed to me choosing geophysics as an area of study in University and profession. Some of the key skills that I learned in skiing that continue to serve me well are my work ethic, always trying to enjoy what I'm doing (even when it's tough), and always trying to stay focused on the thing that I can affect, while not letting those that I can't control get me too down.
10.    Anything else you'd like to add?
There is such a freedom to being in the mountains and dancing with gravity – what a great past time and a great community to be a part of – I feel very lucky to have travelled, and continue along, the path that racing started me down.