Filip Gigic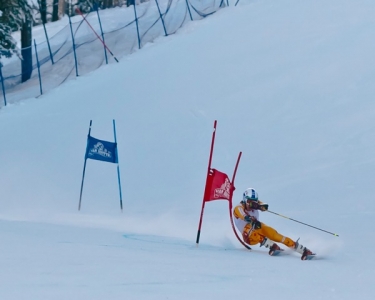 ---
What
club(s) did you ski with?Kananaskis, National Alpine Training Center
2.   Who were some of your coaches? Scott Zahn, Ian Fulton,
Victor Dockal, Andrew Sartisson, Richard Jagger, Duane Baird
Highlight of
your career with the provincial team?Traveling and
competing all over the world with my teammates.
Highlight
of your ski racing career?It's not easy to pick
only one highlight, I love all the people I met and all the places I visited.
Winning is always a highlight.
Who were some of your teammates? Cody Pederson, David Law, Mike Law, Curtis
Mckillop, Jonas Haehlen, Jeff Bell, Rob Greig, Tony Naciuk, Vicky Michalik, Tianda Carroll, Tess Davies, Steph Irwin,
Logan Thackray, Jenn Saunders, Cath Wood, Andrea Turner, Thea Miles, Celine
Rytz, Katie Gibson and many, many more.
Do
you have any tips you'd like to pass on to young racers?Enjoy every minute
of your own personal journey. Don't focus on race to race but rather your
long-term development as an athlete and more importantly as an individual.
What
are you doing now? I am currently studying Marketing
at the University of Calgary and work part-time.
Are you still involved with ski racing?
How? I am still heavily
involved with ski racing. I coach on weekends at Nakiska as well, I sit on the
Board for the Nakiska Alpine Ski Association. Trying to bridge the gaps between
coaches, parents and athletes that exist at times.
Would you tell us a little about how ski racing has contributed to your
life and work? As with many people that
participate in organized sport, ski racing has been the single biggest asset to
my life. It has provided me with independence and taught me a strong work ethic
that I carry with me into my career. I have learned so much on and off the
slopes and these are things that I try to pass on to younger generations
pursuing the sport. It is one of the most unique and amazing sports out there
and it teaches you so much about yourself and how to overcome obstacles that
are put in front of you.

Anything else you'd like to add?Live in the moment, enjoy the sport and take advantage of every
opportunity that you are given. You meet so many amazing people along the way
and treasure those relationships. Finally, never forget that you are a role
model and ambassador for the sport on and off the hill.