Cam Stuart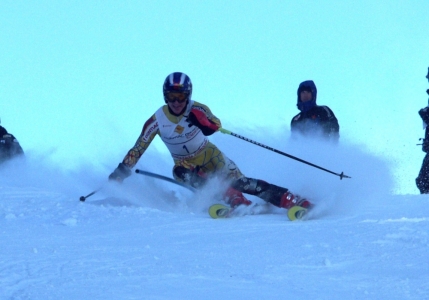 ---
1.    What club(s) did you ski with? Mt. Norquay and NATC (National Alpine Training Center)
2.    Who were some of your coaches? Richard Jagger, Jordy Burks, Duane Baird, Chris Mosaed
3.    Highlight of your career with the provincial team? The chance to travel, make a ton of friends and ski along side some of the best skiers in the world. Results wise, 2nd overall Pontiac GMC Cup.
4.    Highlight of your ski racing career? Being selected for the Canadian Development Ski Team training group.
5.    Who were some of your teammates? I was fortunate to have one heck of a group of teammates during my time on the AB Team. I skied most of my term with Jeff Crompton, Travis Dawson, Brett Haney, Brady Leman and Spencer Tonkinson,  but also had the chance to ski a year or two with Gareth Sine, Trevor White and Nate Crompton. On the women's side, I skied with Allison Empey, Alison Hunter, Taryn O'Flynn, Jess Dakers, Carmel McElroy, Shona Rubens, Kristen Tarchuk and Kayla Bergeneau. So many more than this…
6.    Do you have any tips you'd like to pass on to young racers? Since moving on from skiing, I have always been surprised with how the lessons learned through ski racing are applicable in so other many avenues. Don't undervalue what the sport, the team atmosphere, the travel and the challenges/successes can teach you and apply them everywhere you can. Oh, one last thing…keep in touch with your team mates. No one else can
relate to you like them and they will always be true buds.
7.    What are you doing now? Since moving on from ski racing, I have completed my undergraduate degree in Biomedical Mechanical Engineering at the University of British Columbia and I am starting a Master's degree in the same field in the fall. I have really taken an interest in entrepreneurial venture and am currently developing a company in the area of rehabilitation science. I live in Vancouver and still spend every spare minute in the mountains…even though the coastal mountains aren't as epic as the Rockies!
8.    Are you still involved with ski racing? How? Unfortunately I am not involved in ski racing any more other than a supporter of my friends still racing. Hopefully in the future I will be developing rehabilitation aids and sport equipment so that I can contribute in a different way.
9.    Would you tell us a little about how ski racing has contributed to your life and work?As I mentioned, I have always been impressed with how much ski racing has taught me. Work ethic is probably the most paramount attribute from skiing that I have tried to apply in everything I do. It has also afforded me a great deal of perspective in life and allowed me to always take a step back from things and re-evaluate. As for my work, athletics and the human body are still my main interests but I am now able to approach them from a different angle and apply some of my sport experience through my research and development.
10.    Anything else you'd like to add? Alberta Alpine has always been a great representative of the sport. I owe a great deal of appreciation for their efforts and I hope they continue to promote the sport at every level. I would be happy to help out in any way I can, so please feel free to contact me!