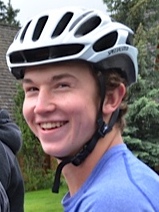 ---
July 28, 2015
Well as one season ends, another starts back up. Being back in the gym full time again is going really well. Everyone is working hard and we are almost used to getting up at 5:30am each morning, whether we are fully awake or still asleep during warm up. A few of us on the team have jobs through the summer so combining dryland and work make for a very long tiring day, and it is always a good feeling when the weekend comes around to have a couple days to relax.
Just this past weekend we had the Poles to Pedals Family Bike Ride, which was a ton of fun to ride in with everyone, and then everyone went back to the LeGree's house for a big BBQ. Thanks to all the riders for buying tickets and supporting Alberta Alpine.
Coming up this Sunday is our first Mt Hood camp.  I'm really looking forward to it, and I'm sure most of the team can't wait to get back on snow.  We are going for 10 days and our main focus will be slalom training. Hopefully the snow conditions will allow us to get some GS training in too. Hood is a really good place to work on the basics and just refreshing your brain after a couple months off snow. It will be a fun first camp for everyone on the team to all hang out and also have a bunch of the Alumni Alberta athletes join us for it.
As it's my first year with the team, I am looking forward to working with the new coaching staff as they all bring very skilled backgrounds to the hill and will give the team the best coaching to improve our skiing through the summer camp.
Thanks for the read!
Collin Taylor
Categorised in: News