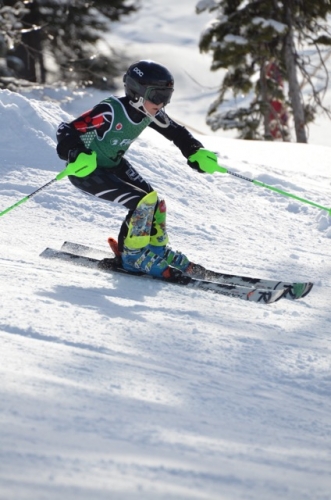 ---
July 24, 2015
Matthew Molnar, Banff Alpine Racers
U14 Cary Mullen Award – Nominated by Mike Law
Matthew Molnar is an exceptional candidate for the Cary Mullen Award. As an athlete he displays all of the characteristics that Cary Mullen stood for: confidence, camaraderie and all the attributes that we as coaches want to see in any rising athlete. He shows willingness and commitment to his skiing every day on the ski hill when training or free skiing, whether the conditions are good or bad. He is always determined to improve his skiing despite undesirable and adverse conditions, showing a level of confidence that is unmatched by many of his peers.
Matthew maintains his focus when necessary, but knows how to enjoy his time out there. He will never question instructions given by coaches, which demonstrates his total commitment to the sport. There was one time when some of the athletes were fooling around near the chairlift rather than training and Matt was unfortunately grouped with those fooling around him. When told to hike up the hill to regain their focus, Matt did so unquestionably despite being in the wrong place at the wrong time while the others were much more reluctant. I believe this is the kind of quality of a true champion.
Matthew's attitude towards his other teammates, and other competitors is unparalleled in that he alw
ays makes sure to cheer them on at races or at training, making sure to congratulate other athletes on their performances and always be friendly to those around him. There have been many times where Matthew was the only one of the boys to go for an extra lap on race day to cheer on the girls still in the start.
Growing up the Rocky Mountains there are many opportunities for young athletes to display their courage. With Sunshine and Lake Louise at our door step, getting fired up to ski that next cliff, jump, chute, or race course is something seen often from Matthew.  Regardless of how that feature went last time Matthew will not shy away until he has mastered it. In training there have been times that Matthew has fallen, in a spectacular fashion, on a particular gate and when he gets back to the start there is no mention of how that gate is difficult or that gate is scary, he only focuses on how he will nail that turn. Matthew trusts himself and displays confidence in his skiing ability to really take his skiing to the next level
For his commitment to the sport and his skiing, his confidence in his abilities, his courage to do what's right and the camaraderie Matthew spreads among his peers, I am delighted to nominate Matthew Molnar for the Cary Mullen Character award as an athlete possessing the qualities of a true champion in the making.
Below: Matt with trophy, in green jacket, on shoulders of coaches left to right, Mike Law, Ross McKercher, Cody Pedersen, Kasia Gruchalla-Wesierski
Categorised in: News